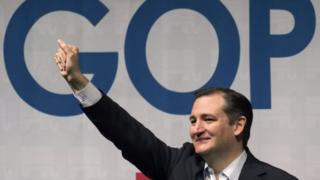 Ted Cruz has won the Kansas and Maine Republican caucuses in the latest round of voting for the US presidential nomination in five states.
With all of the vote in Kansas counted, Texas Senator Cruz took 48%, with billionaire Donald Trump a distant second on under 23%.
Mr Trump is ahead in Kentucky, with the Louisiana primary results to come. In the Democratic race, Bernie Sanders has beaten Hillary Clinton in Kansas, party officials in the state say.
Democrats voted in caucuses in Kansas and Nebraska, as well as in a primary election in Louisiana.
Overall, Mr Trump is ahead in the Republican race. Mrs Clinton, a former Secretary of State, leads the Democratic contest.
Efforts by Republicans to slow Mr Trump's march have until now failed.
Mitt Romney, the 2012 Republican nominee, earlier accused the businessman of bullying, greed and misogyny. Mr Trump dismissed Mr Romney as a
"failed candidate"
.
Last week, on Super Tuesday, Mr Trump won seven of the 11 contests.
Wow.....it's now getting tougher...